1). A historical beginning:
The MTI Countdowns were first started at the end of May 2008 by Producer Jack and sometimes guest hosted by his previous YouTube crew members. The first countdown that was made was the MTI Top 10 Countdown for May 30, 2008 (songs on that countdown listed below). The audio to that episode has not been found. However, the list of songs on that countdown was found in a hand written note. Therefore that's kinda how we know that was our first countdown? Anyway below are the songs to that first countdown.
10. Jesse McCartney- Leavin'
9. Britney Spears- Break The Ice
8. Jordin Spraks- One Step At A Time
7. Flo Rida- Elevator
6. Maroon 5 ft. Rihanna- If I Never See Your Face Again
5. Ray J ft. Young Berg- Sexy Can I
4. New Kids On The Block- Summertime
3. Usher ft. Young Jeezy- Love in this Club
2. Madonna ft. Justin Timberlake- 4 Minutes
1. Mariah Carey- Bye Bye
You can also take a listen to our first episode that we have a copy of, which would be the MTI Top 10 for July 4, 2008, click here: http://hipcast.com/podcast/HFJnqhps
Before the MTI Countdowns, we were known as Maytable Inc (and MTI does stand for Maytable Inc) and Producer Jack did some various stuff with that brand. From mid 2002 to about mid/late 2006, Producer Jack wrote books with the brand "Maytable Inc" and from end of 2006 to about mid 2008, Producer Jack and some of his pals (like Retarded Petry or his real name, Zilin and Keith, both of whom were featured on the MTI Countdowns) made YouTube videos under the name "Maytable Inc". After the YouTube videos (and roughly around mid-2008), the MTI Countdowns were started and continue still today (as already mentioned above). Around late 2007, Maytable Inc changed into MTI, hence the podcast being named the MTI Countdowns. The first picture below was a journal entry written by Producer Jack back in May of 2004 and how Maytable Inc was a book company.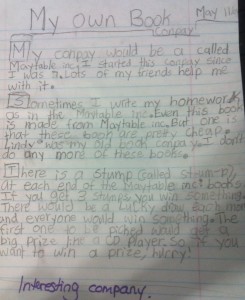 2). Whose hosting?
Just about every year, there are different hosts and hostress that enter into our podcast. From Producer Jack and his YouTube team hosting the very first countdowns to the current hosts, around 20 different hosts have so far made an appearance on one of our shows!
3). History of our logo's: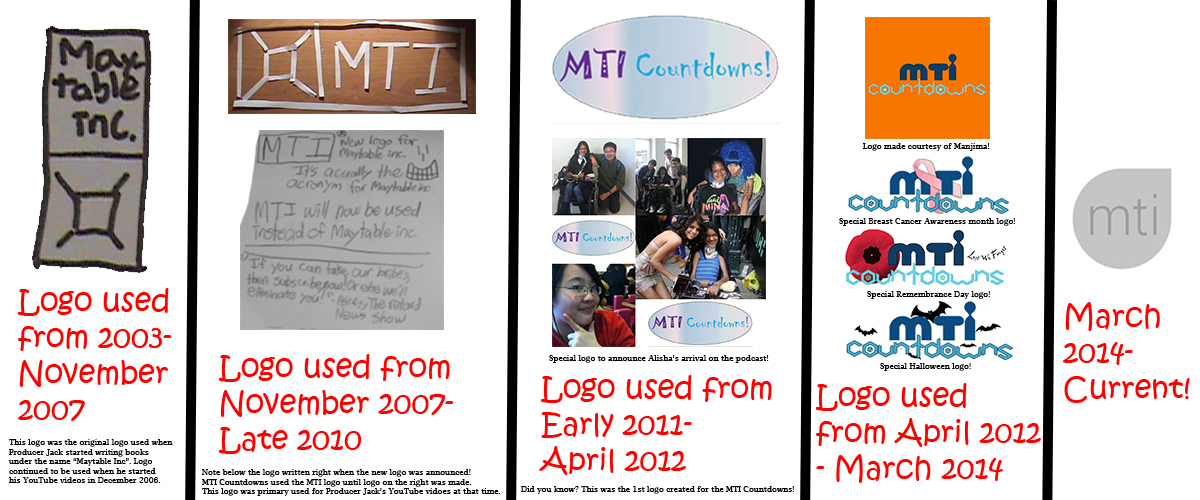 4). Timeline:
May 30, 2008:
First records of the MTI Countdown/Podcast/Top 10, hosted by Producer Jack. Podcasts were hosted on MyPodcast.com.
July 4, 2008:
First audio records we have for the MTI Countdowns/Podcast/Top 10.
July 17, 2008:
Retarded Petry (one of our MTI YouTube actors) guest hosts the MTI Top 10 Countdown.
August 12, 2008:
First flashback on the MTI Countdowns.
August 20, 2008:
Ben Kwan (one of our MTI YouTube actors) guest hosts the MTI Top 10 Countdown.
October 1, 2008:
First MTI Top 20 Countdown is released. Artist of the Month and New Canadian Music is introduced.
January, 2009:
First MTI Top 25 Countdown is introduced. Sure Shots are changed to Hot Extras.
April, 2009:
Allen (a friend) guest hosts a MTI Top 25 Countdown.
June, 2009:
Cool Canadian replaces New Canadian Music.
April, 2010:
Experimented with radio stations like 101.3 KDWB (Twin Cities, MN) and Mix 107.9 (Salt Lake City, UT), through using their slogans and jingles on the MTI Top 25 Countdowns. Last few episodes released on MyPodcast.com before moving over to Podomatic.
October 30, 2010:
Andy and Sandra hosts their first MTI Countdown (MTI Top 25 for Fall 2010). This also starts our partnership with Podomatic.
December, 2010:
Andy does his last MTI Countdown for a while, before he comes back again in 2013, with a cameo in the summer of 2012 for the first MTI Top 50 episode.
September, 2011:
Andy officially announces his departure from MTI Countdowns and Alisha replaces him and hosts her first MTI Countdown which is the September 2011 MTI Top 10 Countdown.
March, 2012:
MTI Top 10 Countdowns are done weekly, with a new episode every Saturday, hosted by Sandra
May, 2012:
Alisha leaves the MTI Countdowns (or a hiatus, since she comes back 6 months later) and Lara replaces her. Keith, who originally co-hosted with Petry is back on the MTI Countdowns, co-hosting with Lara and Sandra.
June, 2012:
Lara goes into a small hiatus (originally stated that she was leaving) to pursue her future university education. Michael replaces her on the MTI Countdown. Keith quits because of personal reasons.
End of June- Mid of July, 2012:
The first MTI Top 50 is made containing many of the past hosts like Andy, Allen and Alisha. Also Lara stated that this would be her last official episode, but it just starts her one month hiatus from the podcast.
July, 2012:
Zoe and Michael joins Sandra on the MTI Countdowns, following the MTI Top 50 Countdown. Zoe's first official appearance was on the MTI Top 25 Countdown for Summer 2012. Michael's first official appearance was on the MTI Top 50 Countdown. The MTI Top 25 Countdowns are changed to make sure a new countdown is made each month.
August, 2012:
Lara comes back from the hiatus and debuts her new show called the MTI Top 3 Countdown.
September, 2012:
Lara takes a month off (another small hiatus) to prep in university. Zoe takes over the MTI Top 3 for the month of September. The MTI Top 3 countdown also goes onto hiatus mode after September 2012 due to our studies at school. Manjima (Jima), one of Sandra's best friends, joins the MTI Countdowns, starting with the MTI Top 10 for the fourth week of September 2012. However, she originally was taken in to only MTI Top 25 with Sandra, Michael and Zoe, though that changed in 2013 (she started hosting other MTI Countdowns).
October, 2012:
The MTI Countdowns finally becomes available on the iTunes Store (well goes back to the iTunes store, back in the day, our podcast in 2008 was approved in the iTunes store, but after we stopped our relationship with mypodcast.com, it got taken off, and we weren't able to get it back on because of Apple originally rejecting our new request to go back to the iTunes store, complicated eh?).
November, 2012:
Alisha is back on the MTI Countdowns with her new show called the MTI Top 5 CountUP. Angela joins the MTI Countdowns and was given the role to share positions with Michael on the MTI Top 10 Countdowns.
January 2013:
Michael and Zoe departs from their positions on the MTI Countdowns and are replaced by Ruth, Sigma and Andy (who comes back in 2013). Angela and Manjima become full time hosts (with Angela focused on the top 10 countdowns while Jima focused on half of the top 10 countdowns and still concentrating her work on the top 25). The MTI Top 25 Countdowns begins to have bi-monthly specials, due to the ending of the Top 10 Specials in March, 2013. 80's music is also added onto each countdown.
February 2013:
Website has been changed for the first time in almost 3 years. Main URL is also changed from mticountdown.com to mymti.org. MTI Countdowns also begins to have an alternative/indie rock lean on the regular shows (not special or on the top 3/5). DJs on the MTI Countdowns also start blogging on the new website.
March 2013:
New show called the Japan Top 10 is first released and hosted by Sandra (found at mixcloud.com/jtop10). MTI Top 10 Specials stop and become replaced by the MTI Top 5 CountUPs or MTI Top 3 Countdown. Also starts the 2 month run of the MY MTI Top 3 Countdown, where each of the hosts showcase their top 3 favorite songs of all time. The unpredictable countdowns are first released.
Producer Jack note: For more information about changes before and after March 2013, check out http://www.mymti.org/category/importantmtiupdates/