1. Q: What does MTI stand for?
A: Maytable Inc. If you want more info about how this name came forward, click here.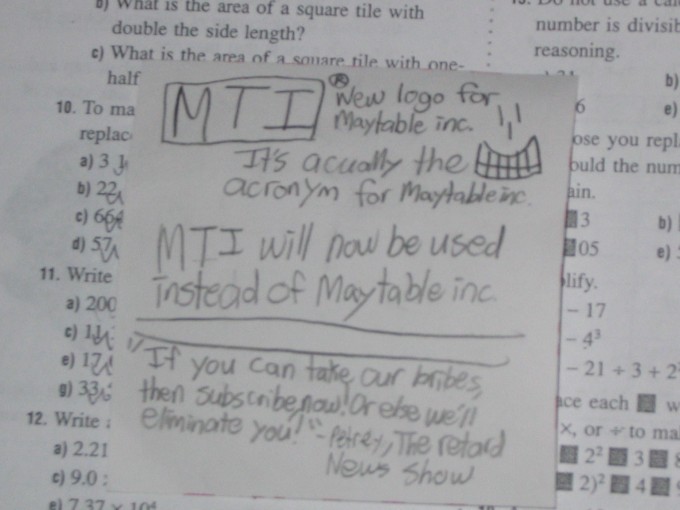 2. Q: Can I learn more about the hosts on the MTI Countdowns?
A: Check under the "Hosts" tab.
3. Q: I hate the songs that you guys play on your podcast, is there a way to change it?
A: No problem! Email us at info@mymti.org with the songs you would like to see on the countdown. We'll try to get it on for you on the next countdown/podcast.
4. Q: How long will each episode be kept?
A: We have unlimited storage on our hosting provider Hipcast so, forever? Well until we stop paying them the monthly fees, but yea, they won't get deleted by us.
5. Q: Why do you guys always change the theme to your website? The previous site looks good the way it was!
A: There are often many glitches that we noticed on our old theme and to make sure that your experience on our website goes smoothly, we change it to fix these nasty glitches. Aside from glitches we also change themes because we were not satisfied with our previous theme, from how it looked aesthetically.
6. Q: What's with all these random highlighted words on your site that look like advertising when I hover around it?
A: These highlighted words are from our advertising partner, Infolinks. They are not harmful or malicious links, they are similar to ads you would see on any other websites that may use other advertising partners such as Google Adsense. If you are actually intrigued by what they offer you, please click on them, as this helps us with funding the podcast!
7. Q: Do you guys accept advertising on your podcast or website?
A: Yes. Money from advertising will only go towards essential material like website hosting, domain renewals and podcast hosting. We are a not for profit organization, meaning we will not take in more money than we need to sustain ourselves. That means if we do meet the threshold amount to sustain ourselves, we will not accept further advertising.
8. Q: I want to join you guys! I want to be a host on the MTI Countdowns!
A: Feel free to email us at info@mymti.org about this and although we don't require you send a resume or cover letter, telling us a little about yourself would help! However, there will be an interview done through Skype after our email exchange just so that we can know you a little better. PLEASE NOTE THIS IS NOT A PAID POSITION. However, we will more than happy to write you a reference letter if you end up on the podcast for a period of longer than 6 months or appeared on over 10 episodes (whatever comes first).
9. Q: I would like to help you with your website and/or background work!
A: So again, same process as above, please email us at info@mymti.org and follow all the instructions listed above.
10. Q: Can I submit my music for you guys to play on your podcast?
A: You sure may! If you are in a band or a musician yourself, then we certainly want to hear from you! If you need publicity with your music, we really want to help you out that! Just email us at info@mymti.org and give us a little information about yourself/band and the song you sent to us! We'll keep in touch after that! PS, we don't charge any fees, we do this ABSOLUTELY FREE OF CHARGE! We want to help all those talented future artists out best way as possible! We welcome all types of music, but if it is in the J-Pop/J-Rock (Visual Kei)/K-Pop format, then our sister shows,  Japan Top 10 & KTop 10, respectively, would be more than happy to accept your song.
11. Q: I have more questions! You haven't answered all of them!
A: That's ok, just email us at info@mymti.org and we'll get back to you with the answer ASAP.